Our established business operations are well supported by experienced management who ensures that each and every process machinery as well as equipment dealt by us meets the standards being followed in that particular industry. Further, the in-depth process knowledge of our team also allow us to offer customers personalized as well as value added services that has in turn helped us to broaden our customer base across various industry segments. Other than manufacturing, we also have well established network of sourcing partners that allow us to identify and procure right range of security solutions as demanded in the Indian markets
The Engineering Division deals in designing, building and supplying of an extensive range of Plating Machinery to the customers. We offer a wide a range of Plating Accessories. The range comprises electronic rectifiers, Tanks, Blowers, Filters & Dryers etc.. These equipments meet all high parameters of quality, durability, cost effectiveness & widely known for their supreme quality & standards. These products are made using fine quality raw material and latest techniques and these are also available at industry leading prices with quality.
A1 Equipments & Power Supply located at Thrissur in Kerala since last one decade. It's a subsidiary unit of Future Coat Technology and A1 Products. A well known and renewed company with a proven track record in the field of manufacturing electroplating chemicals and equipments. Our quality products with the guarantee in the trade trend in the market with full customer's satisfaction. The company is enriched by collaborating with foreign multinationals in bringing the latest technology and techniques. It is the policy of the company to maintain high standards of ethical conduct to comply with all applicable laws.
A1 Equipments & Power Supply rectifier output has stable DC Amp& Volt which do not follow grid varied. It is used for electrolytic cleaning; zinc plating; copper plating; nickel plating; chrome plating; silver plating; gold plating an aluminum anodizing of metal & pop industry. After many years of study & research by the technologists our improved rectifiers have been performing very well in different & various working conditions.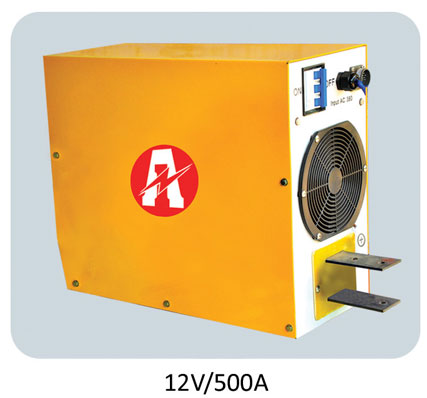 Electrical Features
High speed IGBT technology
Modular power platform
Microprocessor controlled
High speed polarity switching
Up to 40% power saving vs.Silicon Controlled Rectifier
Cos ø 2 0.93 at rated load
Low output Current ripple
High precision voltage and current regulation
Fast response time and high stabilityto load variation
Hardware Features
Light weight
Main switch and operator control panel
All input/output connections in the backfor easy access Software Features
Simple output parameters and waveform from the operator panel.
Customized software
A/Hour and A/Min meters and dosing pumps as on demand.
Available Features
Available Features
Manual
Automatic Via PC or PLC
Model
Single Phase (ER O5)

Available Max Voltage and Max Current 8V to 24V / 100A to 300A
Available Max Voltage and Max Current 8V to 24V / 100A to 300A

Three Phases (ER 14)

Available Max Voltage and Max Current 12V to 24V/ 500A to SOOOA (10000A)
Electrical Features
SALIENT FEATURES
Japanese Technology, Light in weight, Compact in size, Simple in operation, Low power consumption, High efficiency, Easy to maintain, Very economic, Semi conductor switching regulation & Constant output. Available range from 12 V to 24 V & 300 Amp to 5000 Amp
PLC Compatible RECTIFIERS
SALIENT FEATURES
Connects to Supervisory computer using RS-485, Acts as Remote Terminal Unit (RTU), Can interface with all Popular PLCs, Compact in size, Capable of 24 hours continuous operation, Can be used as stand alone system. Available Range from 12 V to 24 V & 300 Amp to 5000 Amp
PLC Compatible RECTIFIERS
SALIENT FEATURES
Connects to Supervisory computer using RS-485, Acts as Remote Terminal Unit (RTU), Can interface with all Popular PLCs, Compact in size, Capable of 24 hours continuous operation, Can be used as stand alone system. Available Range from 12 V to 24 V & 300 Amp to 5000 Amp
Electro Phoretic Rectifiers (CED Coating)
SALIENT FEATURES
Especially made for electrophoretic application, Micro -controller based design, Fully programmable operations, Constant voltage output, On and off control, High efficiency, Line voltage regulation, load regulation, User selectable time zones, 20 x 4 lcd for user interface, 4 x 1 membrane keypad, No relays or dimmers used & low cost. Available range from 80 v & 50 amp